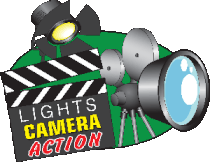 Well I choose movie -making. You might wonder why I'm so passionate about movie-making project. Let me tell you that filming a movie unite the church members. We always have devotional before we start filming. We pray together before and after we film. We invite non-believers as our movie casts to play minor roles. There, we build friendship with them. Then we watch together what we have done after the filming. We all have memories we can never forget. They become part of our family. They get and understand the message.
After that, we will invite them for one week evangelistic meeting.
How About Radio Station?
Well, I was dreaming of a radio station for the Mien outreach ministry before God led me to the movie-making ministry. But as what I have heard and see, some radio ministries were successful and some weren't. The reasons are
1. They lack professional crews
2. Putting up a radio station is very costly.
3. The maintenance is very high since we have to pay the DJ and radio workers.
4. Some countries are very strict and only few can obtain permit to operate.  However, radio ministry has its place in God's work. In fact, many came to the feet of Jesus because of our radio program. But what I like about movie ministry is that
(1.) The cost of production is low. If you are reaching a hilltribe group, like Miens, where most of them have already Mien clothes to use for the shooting, then that would lessen the cost of production.
(2.) The filming production takes only a short period of time and the movie you produce is forever!
(3.) As what I mentioned earlier, every church member will be involved in the production. The church will be strengthened spiritually.
(4.) No need to obtain permit except if we are shooting in a very sensitive places.
(5.) No maintenance and we are not paying monthly bill for electricity and salary for workers.
(6.) And most of all, movie ministry has no limitation of its reach while radio station depends on the antenna to expand its coverage. Though the movie ministry needs funding to buy lots of blank DVDs and CDs and gas for the mission trips, people can re-watch them over and over any time since they have their own hard copy. It can also be easily shared to anyone around them and if the communication research is true that people tend to remember 20 percent of what they hear, 30 percent of what they see, 50 percent of what they hear and see. Then it looks like movie ministry is more effective. 
---
SHARING:
Take advantage of the  easiest & the best video editing software ever for your church media ministries and your media missions!